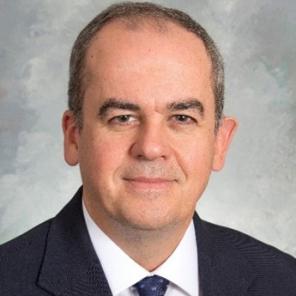 Jacques Eduardo Nör is the Donald A. Kerr Endowed Professor and serves as Chair of the Department of Cariology, Restorative Sciences, Endodontics at the University of Michigan School of Dentistry, Ann Arbor. He has joint appointments as Professor of Otolaryngology in the Medical School and Professor of Biomedical Engineering in the College of Engineering at the University of Michigan. Nör served as chair of the Oral Dental and Craniofacial Sciences (ODCS) NIH study section from 2017-19 and has recently become a member of the National Advisory Dental and Craniofacial Research Council (NADRC). He served as co-director of the University of Michigan Head Neck SPORE funded by the National Cancer Institute (NCI) from 2011-16. Nör is a past-chair of the Section on Dentistry & Oral Health Sciences of the American Association for the Advancement of Sciences (AAAS). He is an AADR Fellow and AAAS Fellow. Nör received the 2012 IADR Distinguished Scientist Pulp Biology and Regeneration Award, the 2011 AADOCR/IADR William J. Gies Award, and the IADR Hatton Award in 1999. Jacques has been Associate Editor of the Journal of Dental Research since 2010. He is author of 215 peer-reviewed papers and 15 book chapters. Nör has been funded by the NIH for research on stem cell and vascular biology in the dental pulp and in head and neck cancer. 
1.    How did you first learn about the AADOCR and what motivated you to join? 
In 1992, I moved from Brazil to the United States for graduate studies at the University of Michigan, Ann Arbor. One of my colleagues talked about the IADR and AADOCR and stimulated me to become a student member. Then, I registered to attend my first annual meeting in Chicago, IL in March of 1993.
I remember how overwhelmed I was when I arrived at the conference center. As someone from a small town in the south of Brazil, coming to Chicago to the Hyatt Regency, and seeing hundreds of posters and oral presentations—I was thrilled!
Many textbooks used in dental schools in South America at that time were from American and European authors. And all of a sudden, I was able to attend an oral presentation and see or even talk with some of these authors in person! That was really the moment that I got hooked in the Association, and I have been a member since then.
2.    Can you describe your research? How do you hope your work will impact others?
Our laboratory has two fairly distinct research foci. They are both linked together from the perspective that they are centered on understanding stem cells, but from there they diverge quite a bit. One arm of our research is looking at cancer stem cells, or stem cells in salivary gland and head and neck tumors. Over the last 14 years, we have been funded to understand fundamental mechanisms of how cancer stem cells work in the generation and maintenance of tumors. 
Since these cancer stem cells are typically found around blood vessels, I used my Ph.D. training on tumor angiogenesis with Peter Polverini, who served as AADOCR President in 2013-14, to understand the interaction between blood vessels and stem cells in cancers. Our goal is to discover vulnerabilities in cancer stem cells that can be targeted using innovative mechanism-based therapies to help patients with salivary gland and head and neck cancer. 
This work resulted in two clinical trials testing new anti-cancer therapies so far. The first trial was focused on targeting the blood vessels and the survival of endothelial cells in head and neck squamous cell carcinoma using BH3 mimetics. The second trial is ongoing and is focused on targeting cancer stem cells in salivary gland tumors with a new small molecule inhibitor of MDM2-p53 that was developed by Shaomeng Wang, a colleague from the University of Michigan Medical School. This is the first clinical trial with this new class of drugs in salivary gland cancer. It addresses a major clinical need, as patients with salivary gland cancer do not have an FDA-approved systemic therapy at this time, and many of them eventually die from disseminated disease. We certainly hope that this new targeted therapy will improve the quality of life and extend the survival of patients with salivary gland malignancies.
The other arm of our research program is focused on dental pulp stem cells. We've been funded by the NIDCR to work on mechanisms involved in the vasculogenic differentiation of dental pulp stem cells. The long-term goal of this work is to understand how stem cells participate in the process of tissue repair when the pulp is exposed by deep caries or trauma. We are also working on how we can engage the regenerative capacity of stem cells to revitalize necrotic young, permanent teeth, via transplantation or targeted recruitment of stem cells into the root canal. 
These might be seen as two very different directions, but they are centered on understanding the biology of stem cells in health (tissue regeneration) and in disease (e.g. cancer). Within the same context, the Journal of Dental Research published a special issue entitled "Craniofacial Stem Cells in Health and Disease" in 2015 that was co-edited by Ophir Klein, University of California, San Francisco, and myself. 
3.    Can you describe your experience being a researcher from an underrepresented group in science?
I feel truly blessed! If anything, coming from an underrepresented background has opened (not closed) doors for me. I have never felt discriminated in any way at the University of Michigan. My Latino background and my heavy accent have not limited opportunities for me at the NIH/NIDCR either. I had the honor to serve as chair of ODCS, which is the Study Section that is most closely related to dentistry and dental research. That was a great responsibility, but I also saw it as truly an honor. Coming from another country and having the opportunity to serve in that capacity demonstrated unequivocally to me how the NIH/NIDCR embraces diversity. 
Importantly, I am honored to have been embraced and supported by the AADOCR members who entrusted a Latino whose parents had only elementary school-level education to serve as the 50th President of the Association. Having this opportunity to serve means a lot to me! It certainly brings the responsibility to serve the Association and to bring a different perspective to attempt to address an important issue that we currently have, which is to maintain a robust membership during challenging times. Indeed, I will do my very best to encourage colleagues from underrepresented minorities to join the Association, while ensuring that current members continue to receive the service and support that they expect from the AADOCR.
I am positive that science moves forward best when we integrate different perspectives to solve a shared problem. If we rely on monolithic groups of people thinking the same way, it's very difficult to move science forward and to make truly innovative discoveries. Indeed, some of the most productive times in my lab have been when a diverse group of people, including colleagues who are not dentists (e.g. physicians, biologists, mathematicians, engineers), bring their own unique perspective to solve a scientific problem. When that happened, we were able to move our projects forward much more efficiently through discoveries that are significant and innovative. 
And finally, it is important that the focus is not limited to ethnic diversity, but that we also consider diversity of socio-economic backgrounds. Collectively, diversity brings unique thought processes and alternative strategies to solve problems. It is important to continue to enable and foster diversity by demonstrating the advantage that it brings to the quest of innovative and impactful discoveries. It is my personal hope that we will eventually get to a point where diversity becomes a natural consequence of a common understanding that diversity brings major benefits to society at all levels, and particularly to research and discovery. 
4.    Have you had the opportunity to mentor underrepresented minorities or work to increase diversity in science? If yes, can you describe your experience and what agencies/organizations you worked with?
I don't know the exact numbers, but I would say that at least a half of all the more than 100 dental and graduate students, postdocs, and researchers who have worked in my lab over the years come from underrepresented backgrounds. Many of them are Latinos, but we have also had many investigators from other minority backgrounds, including African and Asian. The significant number of minority researchers in the lab was not something that I had to force. But rather, it was the consequence of connections and collaborations that we have with diverse people here in the U.S. and worldwide. Having the opportunity to work together as a diverse team has been overwhelmingly positive for our research program and for our collective personal and professional development. 
Also, as a department Chair I've been able to recruit and mentor a substantial number of underrepresented colleagues to faculty and staff positions at the University of Michigan. It's been wonderful to see them developing their professional careers. This has been one of the things that I'm most proud of—being a part of creating opportunities and opening doors for women and minorities in academic dentistry.
5.    Based on your experience, how would you encourage AADOCR members to help increase the diversity of the research workforce?
AADOCR members who have the opportunity to recruit faculty, students, or staff will certainly benefit from having a diverse group of colleagues working with them. There is no question in my mind that having a diverse team speeds up research and discovery. Ideally, this should not be something that needs to be imposed. Rather, it should evolve from emerging evidence demonstrating that diverse teams typically perform at a higher level. Everybody wins when diversity is fostered and embraced. If we can get to a point where academic dentistry is more diverse and inclusive, then we will have fulfilled an important mission as AADOCR members. 
6.    What role do you think professional associations can play in supporting its members who are members of underrepresented minority/ethnic groups?
Creating opportunities for career development of underrepresented minority/ethnic colleagues, such as the AADOCR MIND the Future program, is very important to foster diversity in academics. The Principal Investigators, Effie Ioannidou, University of Connecticut, Farmington, Christopher H. Fox, AADOCR CEO, Alexandria, VA, and David Drake, University of Iowa, Iowa City, developed this program with the primary goal of fostering the careers of early-stage minority colleagues. This program has been funded by the NIH/NIDCR for five years. I believe that the MIND the Future program will have an impactful and multiplying effect, as each one of the participants will be able to pass forward their experience in the program and attract other minority colleagues to join academic dentistry. This is a very concrete example of how our Association can support diversity.
It is also important to continue to foster the inclusion of women and underrepresented minorities in leadership roles within our Association. Young researchers will have interactions with women and minorities in leadership positions and might see themselves in those roles in the future. Leading by example is the best way to inspire colleagues from underrepresented backgrounds to pursue career paths that lead to active engagement and participation in our Association and in academic dentistry.