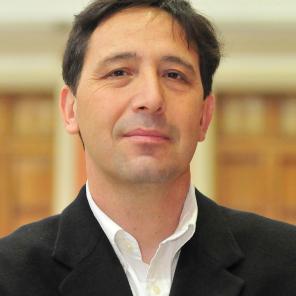 Dr. Alexis M. Kalergis is a Full Professor at the Schools of Biological Sciences and Medicine, P. Universidad Católica de Chile. He also acted as Visiting Faculty at The Albert Einstein College of Medicine in New York, The University of Nantes in France and the University of Iowa, where he held a Helen C. Levitt Visiting Professorship. He is a Biochemistry graduate from P. Universidad Católica of Chile and obtained his MSc and PhD in Microbiology and Immunology from the Albert Einstein College of Medicine in New York. His work was awarded the Julius Marmur Award for the best graduate thesis. He was a postdoctoral trainee at the Albert Einstein and The Rockefeller University, supported by a Helen Hay Whitney Fellowship. He has trained hundreds of students, lectured as an invited speaker in 350 national and international conferences, published over 310 articles in leading journals and over 60 patent applications.
He is a member of the American Society of Immunology, the American Society of Microbiology, and the Chilean Societies for Biology, Cell Biology, Biochemistry-Molecular Biology and Immunology. He was given in 2004 the national award to the most outstanding young scientist by the Biology Society of Chile and selected as one of the fifty Chilean young leaders in 2005. In 2006 he was included as a member of the Frontiers of Science program belonging to the Chilean Academy of Sciences. He has been awarded several important national and international research grants. He has been Director of the Millennium Nucleus and Institute on Immunology and Immunotherapy (2006-2031), which was appointed as a Center of Excellence by the Federation of Clinical of Immunology Societies and he as a member of the Board of Directors of this very prestigious organization. Furthermore, Dr. Kalergis coordinated of a Consortium Grant on Biomedicine and as part of this project, with his colleagues with work on the technological transfer of basic biomedical knowledge (bench) to concrete applications consisting of new therapy tools for diseases that are prevalent in the Chilean population. He was appointed as a member of the Presidential Science Committee and the Senate Committee for Science (Challenges for the future). Further, he was nominated as Scientific Liaison ICGEB, Director of the Biotechnology Committee at CONICYT and
subsequently member of the Council of Scientific Advisors of the ICGEB (a United Nations Organization).
Dr. Kalergis was awarded the Gold Medal by the World Intellectual Property Organization, the National Innovation Award, the Merit Award, Abdon Cifuentes Award, the Innovation Career Path Award and the Image of Chile Award. He was incorporated to the Chilean Academy of Sciences and is a member of the Presidential Science Advisory Council. During the pandemic, his laboratory generated a vaccine prototype for a COVID19 vaccine, and he coordinated and directed the execution of phase 3 clinical trials for an inactivated SARS-CoV-2 vaccine that was subsequently used for mass vaccination in Chile.