The David B. Scott Fellowship is awarded annually to a dental student in one IADR Division and will rotate alphabetically among the Divisions. It will be the Division's responsibility to select the recipient by any method it devises, but the Division must present the candidate's name and the proposal for his or her research experience to the IADR Board of Directors for approval. The annual recipient of the fellowship will be announced at each IADR General Session & Exhibition. The IADR expects to award the David B. Scott Fellowship in the amount of US$2,500. The Division shall propose how the award funds shall be used and criteria for selecting candidates, and this should be stated in the proposal.
The Fellowship is given in 2024 in the IADR Indian Division.
Key Dates
Applications Open:
Jul 11, 2023
Applications Closed:
Oct 17, 2023
Eligibility
The student must be training to be a dentist.
Candidates MUST be IADR members.
2023 Recipient
IADR Colombian Division
Maria Paula Contreras Becerra
National University of Colombia, Bogotá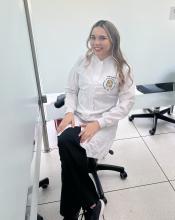 Questions about the award?

Beatrice Nguyen
Awards, Fellowships and Grants Coordinator
Email me