The Innovation in Oral Care Awards ("Award(s)") are jointly sponsored by IADR and Haleon, with funding provided exclusively by Haleon. The IADR mission is to drive dental, oral and craniofacial research for health and well-being worldwide. It does so through its Divisions and Sections as well as in partnership with international dental associations, industry, health agencies, and scientific and educational professional organizations. These innovation awards offer opportunities for investigators to conduct dental research that will have a direct impact on the oral health of the public.
Key Dates
Applications Open:
Aug 08, 2022
Applications Closed:
Feb 10, 2023
Introduction:
As a leader in consumer oral care, Haleon recognizes the need for pioneers to produce innovative technologies that can be used routinely by the public to maintain and improve oral health and quality of life. The Award(s) is intended to help investigators pursue innovative and novel research in oral care, above and beyond the bounds of traditional dental research.
Three competitive Award(s), of up to $50,000 each, will be provided to recipients to advance oral care programs directed toward the development of innovative and novel compounds, biomaterials or devices that can be used ultimately at the public health level. Examples of areas of interest could include, but not be limited to:
inhibition or removal of biofilms etc. adhering to natural or artificial surfaces,
modification of those surfaces to inhibit biofilms and other deposits, stains and odors,
adhesives for removable prosthetic devices,
inhibition of tooth surface loss and gingival recession, and amelioration of their effects, and
counteracting the oral effects of dry mouth, systemic illness, hormonal disturbances or physiological aging.
The Award(s) will be provided in the form of an unrestricted research grant which carries no obligation to the recipient's organization for licensure, patenting, or transfer confidential information, although Haleon may discuss the possibility of future collaboration with some applicants.
2022 Recipients
Livia Tenuta
University of Michigan, Ann Arbor, USA
Multifunctional nanoparticle to manage xerostomia and hyposalivation-induced caries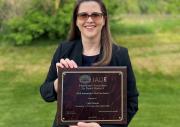 Yoav Finer
University of Toronto, ON, Canada
Antimicrobial self-assembled nanocomposite loaded adhesive for the prevention of denture stomatitis.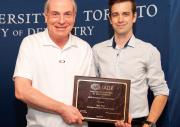 Joao Ferreira
Chulalongkorn University, Bangkok, Thailand 
Novel Mucoadhesive Delivery of Plant-derived Epidermal Growth Factor towards the Topical Over-the-Counter Treatment of Oral Mucositis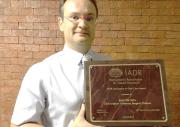 Questions about the award?

Beatrice Nguyen
Awards, Fellowships and Grants Coordinator
Email me