The Osteology Foundation promotes research, education and collaboration between universities and industry in the field of oral and maxillofacial tissue regeneration. The Osteology Foundation aims to bridge the gap between scientific progress and clinical practice, as well as between academic and industrial researchers in the field of oral tissue regeneration.
Funding research into all aspects of oral tissue regeneration is a core task of the Osteology Foundation.
Key Dates
Applications Open:
Jul 11, 2023
Applications Closed:
Dec 01, 2023
Sponsor: Osteology Foundation 

The IADR Osteology Foundation New Investigator Award in Oral Tissue Regeneration is jointly sponsored by the International Association for Dental, Oral, and Craniofacial Research (IADR) and the Osteology Foundation, with funding provided exclusively by the Osteology Foundation.
Research topics falling within the scope of the award are:
Hard and soft tissue biology: clinical aspects
Novel bone and soft tissue substitute materials
Local factors affecting oral tissue regeneration
Systemic diseases with an impact on oral tissue regeneration
Pharmacological aspects of oral tissue regeneration
Inflammatory conditions, e.g. periodontitis or peri-implantitis
2023 Recipient
Gustavo Andrés Monasterio Ocares
Karolinska Institute, Stockholm, Sweden
"Investigating Regenerative Pathways in Salivary Glands to Mitigate Colitis-Induced Oral Pathology"
Supported by Osteology Foundation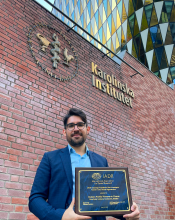 Have questions about this award?

Beatrice Nguyen
Awards, Fellowships and Grants Coordinator
Email me