The IADR, represented by CEO Christopher H. Fox and Board Member Gottfried Schmalz, attended the third meeting of the Conference of the Parties (COP3) to the Minamata Convention on Mercury, November 25-29, 2019 in Geneva, Switzerland. Other Non-governmental Organizations (NGO) in attendance were the FDI World Dental Federation and the International Dental Manufacturers. The American Dental Association, as an FDI member association, was also in attendance.
The Minamata Convention was adopted in 2017 to address mercury, a heavy metal that is persistent in the environment. As a naturally occurring element, mercury can be released into the air and water through the weathering of rock containing mercury ore or through human activities such as industrial processes, mining, deforestation, waste incineration and burning fossil fuels. Dental Amalgam is addressed in Article 4 of the Treaty as a Mercury-added Product and in Annex A, Part II, where Parties (countries that have signed or ratified the Minamata Convention) are obligated to undertake at least two of nine provisions to phase-down the use of dental amalgam.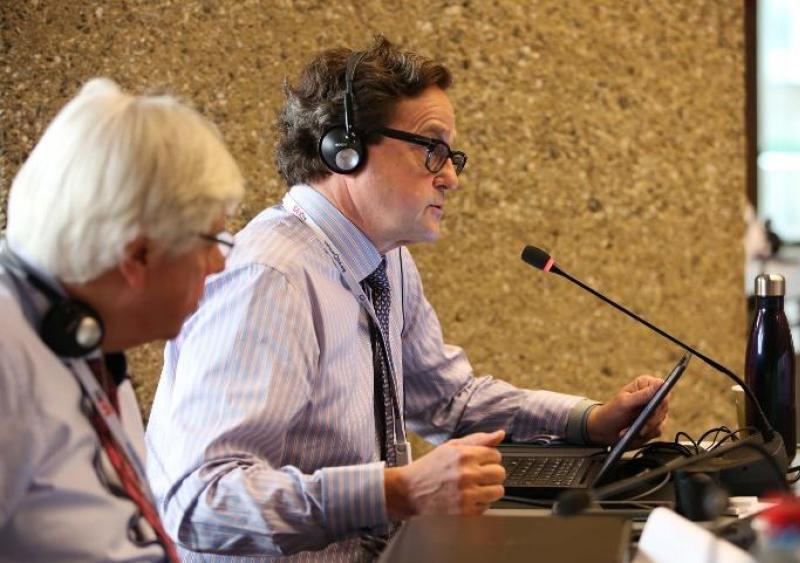 Photos
IADR CEO Christopher H. Fox reading the IADR Intervention, Gottfried Schmalz (L). (Photo by Minamata – Kiara Worth)
At the COP3, there was a proposed amendment to the Convention that would have moved dental amalgam from Annex A, Part II to Annex A, Part I, with a phase-out date of 2021 for children and 2024 for adults.
In its intervention, IADR reiterated its support for the phase-down of dental amalgam. Consistent with the recommendations of the treaty, IADR emphasized the need, firstly, for increased oral disease prevention efforts to reduce the need for any kind of restorative material and secondly, for further research on new biocompatible and environmentally-friendly restorative materials and approaches that are proven to have equal or improved long-term clinical longevity and cost effectiveness when compared to amalgam restorations.
Thanks to the interventions of the World Health Organization, FDI, IADR and several countries, there was insufficient support for the amendment so it was not brought to the floor for approval. Instead, the Conference of the Parties agreed to encourage Parties to take more than the two required measures in Annex A, Part II to continue the phase-down of dental amalgam and also requested the Secretariat to request further information and prepare an information document in time for the COP4 meeting in 2021.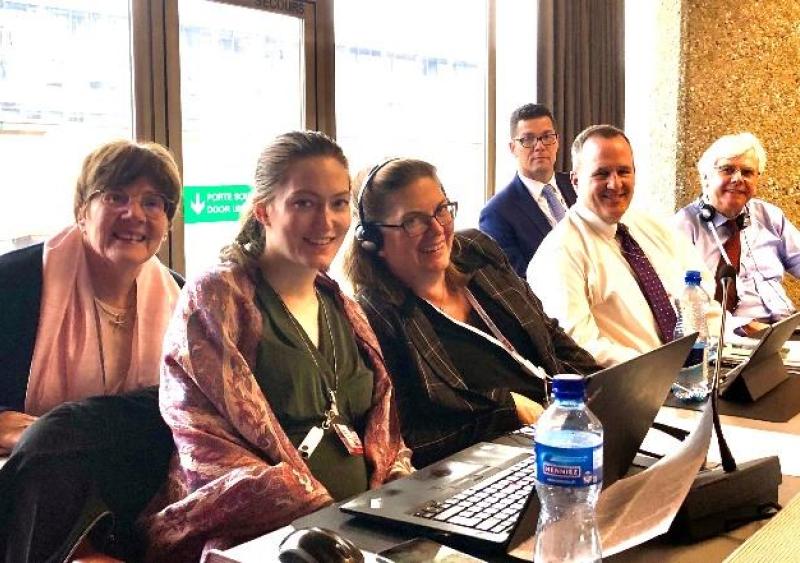 Recap
L-R, Pamela Clark (IDM), Kristina Collins (FDI), Betsy Shapiro (ADA), Marcelo Araujo (ADA and IADR member), Jerry Bowman (ADA) and Gottfried Schmalz (IADR). (Photo by C. Fox)