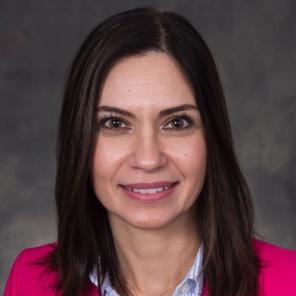 Marcia Campos is a Clinical Associate Professor of Dentistry at the University of Michigan. In Brazil, she obtained her DDS in 2001, her Master's in Biological Sciences in 2004, and her PhD and residency in Oral Pathology in 2008 and 2010, respectively. She maintained her private dental practice as a General dentist and Oral Pathologist and taught in different universities in Brazil, being exposed to a variety of backgrounds and diverse environments. She moved to the United States in 2015 and joined the University of Michigan, Department of Cariology, Restorative Sciences and Endodontics. She has been involved as a PI and as a collaborator of many different Oral Cancer projects and, more recently, has directed her interest toward working with minorities, interprofessional education in health care settings, and caries research. She was a fellow in the University of Michigan Leadership Fellow Program for Interprofessional Education (2021/2022) and is the Faculty Advisor for the Schoolwide Student Council at the University of Michigan. She is member of the Diversity, Equity, and Inclusion-Multicultural Affairs Committee at the University of Michigan and a current member of the AADOCR Committee on Diversity and Inclusion.
How did you first learn about the AADOCR and what motivated you to join? 
I became more interested and involved with research when I was in dental school in Brazil. This led me to attend scientific meetings, including the Brazilian division of the IADR. I was fascinated by the networking and exposure to current research in Dentistry, so I started to dream about participating in international meetings like AADOR and IADR. In 2007, I participated for the first time in the AADOCR/IADR General Session in New Orleans. I was a PhD candidate in Oral Pathology at the time and went to the meeting to present a poster about my thesis. I remember having very mixed feelings about the experience – I was super happy but also overwhelmed with how big, dynamic, and important the meeting was. I also recall walking around the sessions and seeing people who had written the textbooks that I used to study when I was in dental school. It was a great honor having the opportunity to meet those incredible people that were just there, accessible, presenting their own poster or giving talks. I even got a chance to meet my post-doctoral supervisor, Dr. Jacques Nor, who gave me the opportunity to join his research lab at the University of Michigan, one year after attending this meeting. Attending the meeting was not only an eye-opening experience, but also served to change my career. It started my journey in the United States, first as a postdoctoral fellow from 2008-2009, and as a faculty member in 2015. I have been fortunate to participate in other AADOCR and IADR meetings throughout the years in which I served as oral presentation session Chair and could reconnect with many colleagues, reinforce and establish new collaborations, and develop friendships. More recently, I was nominated a member of the AADOCR Committee on Diversity and Inclusion, which has strengthened my relationship with the group and allowed me to contribute to new fronts.
Can you describe your research? How do you hope your work will impact others?
A great part of my research career was dedicated to the study of oral biofilms and oral diseases, especially oral cancer. I've had several peer reviewed papers published, including cover pages of important journals, and funding support from national and local agencies. Early in my career I studied oral biofilms using molecular techniques, PCR, cloning and sequencing, to identify and quantify the microbial content in complexes biofilms. This basic laboratorial training provided me with the expertise that I applied to the study of head and neck cancer, particularly in relation to gene expression, signaling pathways, cancer stem cells, and cancer angiogenesis.
Due to my broad background and clinical practice in general dentistry and oral pathology, and considering that I'm a clinical researcher who's been very involved with teaching in the Comprehensive care clinic, I have, recently, shifted my research focus to Cariology, Educational Research, and Interprofessional Education (IPE). With this new focus I am hoping to contribute to advance learning in Dentistry, increasing the interaction between Cariology topics and clinical settings, stimulating interprofessional collaborative practices, patient-centered care approaches, and improving aspects of equity, diversity, and inclusion.
Can you describe your experience being a researcher from an underrepresented group in science?
I have encountered people who appreciated me and gave me opportunities to develop my career in a non-discriminatory way. But I've also encountered discriminatory work environments with people who have treated me different because of my background, or my accent, or simply because I didn't graduate from that school. Of course, those experiences impacted me and made me doubt my own capacities at times, but ultimately they provided me with the opportunity to grow and become a better professional. When you are challenged, not because of the kind of professional you are but because of where you are from, it really pushes you to prove your worth because it simply doesn't feel right. Those moments served to reinforce my own value and competence and helped me to strengthen my weaknesses and move forward stronger than ever. Those moments made me question who I really wanted to be as a professional and made me think about what I should do to get there.
Starting my career in Brazil, then moving to the US gave me a multicultural experience with the chance to work in two different systems that prepared me to navigate challenges. It also gave the understanding that if the opportunity doesn't come to you, you should go after it, tracing a path that will lead you toward your goals. There is no giving up because you can always find another door. With all that experience, and because of my broad background, I developed the capacity to work well with a diverse group of people. This made me not only aware of different ways of thinking, but also made me appreciate all the perspectives that different backgrounds bring to the table.
You are currently a member of the AADOCR Committee on Diversity and Inclusion. What motived you to take on this role?
There are still people from underrepresented groups struggling to receive the respect they deserve, to be heard, to have better opportunities to show how valuable they are, to establish their careers, and to attain leadership positions. We all must stay vigilant, so we don't have unconscious bias and discriminatory actions dictating policies. Being part the Diversity and Inclusion Committee enables me to do more for others and keep moving the needle towards a more inclusive and equal ground. Working with such a diverse and open-minded group of people who are thinking about developing and strengthening programs to offer better opportunities is very powerful. The experiences exchanged among the group brings good values to our own lives and the lives of so many others who will benefit from the opportunities that have been created.
Based on your experience, how would you encourage AADOCR members to help increase the diversity of the research workforce?
AADOCR members are involved in different levels of research including clinical, basic, and educational. By making sure we are welcoming and creating opportunities to include people in our research teams that come from different areas of the world and have different backgrounds is a good start. AADOCR members from underrepresented areas should be striving to increase diversity, and researchers who are not part of this group should be paying attention to the opportunities they can offer to promote inclusion and diversity within their research teams. When we have a diverse group, we grow together, amplify our perspectives, and expand our own networks. I try to apply these same principles to increase the diversity of my team on a daily basis. I have several international students and students from other minority groups that come to me looking for guidance and advice to develop their careers, navigate challenges, and get more involved with research. I have students in my team from the most different backgrounds and nationalities: Asians, Americans, Latin-Americans, LGBTQ, and others. They see me as a person who can understand their struggles and they rely on me. I feel very fortunate to have their trust and always try my best to provide them with an inclusive environment and opportunities for equal growth.
What role do you think professional associations can play in supporting its members who are members of underrepresented minorities or ethnic groups? 
I think professional associations play a very important role in supporting members, especially those of underrepresented groups. By constantly striving to offer opportunities to all and advertising these opportunities, we can amplify our reach. The creation of focus groups that bring people together to discuss the challenges they encounter to develop their careers is also a good way to move the needle towards inclusivity.