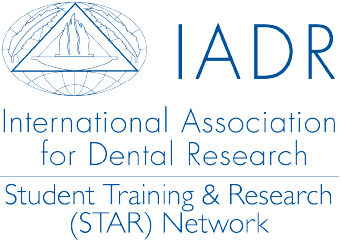 About Us
The Student Training and Research (STAR) Network is a platform to provide a global, non-institutional based, mentoring, training and career development forum for students, residents, junior faculty, clinicians and training program directors.
The objectives of the STAR Network are: to stimulate, promote and foster student research on a global level; to promote and encourage collaboration in programs to foster students research training globally; to promote interdisciplinary collaboration among those with an interest in student training and research at institutions, schools and other centers; to provide mentoring to students at all levels of training in terms of career development and research focus; and to support IADR in promoting research training and student research activities and in collaborating with other international organizations.
The goals for the STAR Network are to: encouraging student research and training international at universities and other appropriate institutions, not confined to dental schools; and encourage the development of student networks and mentorship building initiatives globally in the various IADR Regions and Divisions.
The STAR Network wants to bridge the knowledge and "know how" gap in clinical and basic science research, academic career development, and training methodologies globally so that the young students, researchers and program directors are exposed to best practices beyond their own schools, mentors or programs. This Network connects motivated, qualified students, mentors and program directors to equally motivated, young researchers and mentors providing the opportunity to build connections on a regional and global level.
Finally, the Network provides an educational platform through the IADR General Sessions presenting symposiums, seminars, Lunch & Learning sessions, and symposia related to the STAR Network's goals and objectives.