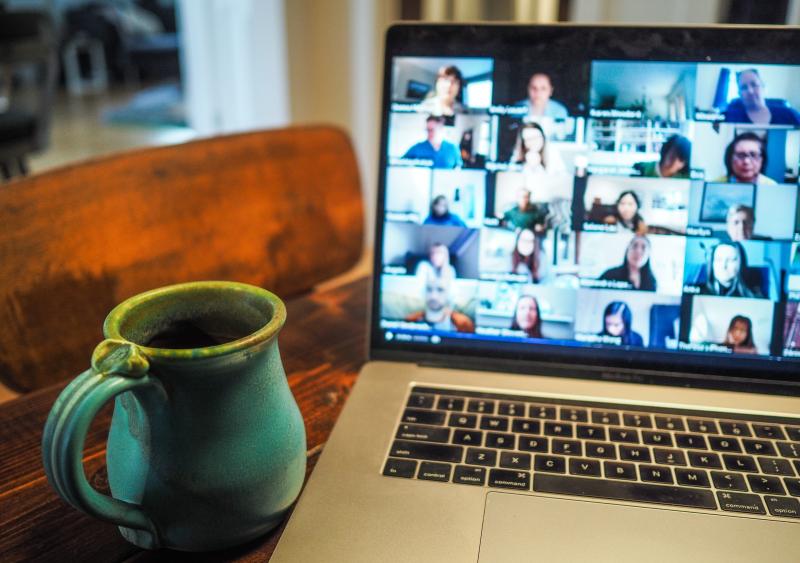 New IADR Online Experience
Our extensive and valuable network of over 10,000 members worldwide provides a wealth of ways for you to discover, network, and advance your career. 
 
Renew your IADR membership for 2022 using the My IADR Portal! Step-by-step instructions are below. If you have questions or need assistance, please contact memberservice@iadr.org.
How to Renew Your Membership
1. You must have an active account to renew. If you have not activated your account, follow the instructions here. 
 
2. Once you have logged in and are on the "Personal Snapshot" page of the My IADR Portal, scroll down to the "Membership" section and click "Renew."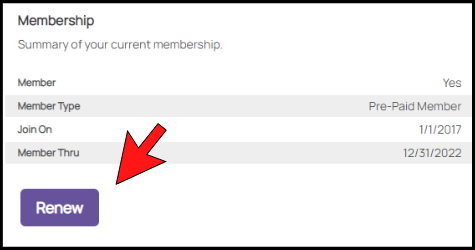 3. Begin filling out the IADR Membership Application page. IMPORTANT: Please review your "Country/Region of residence" selection closely. This selection determines your IADR Member dues and primary IADR Division/Section assignment. Complete the application and then hit "Next."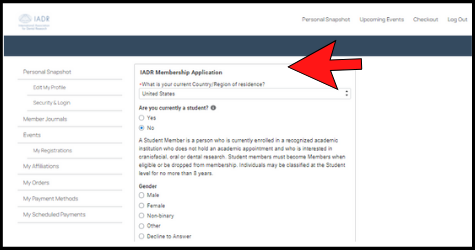 4. Select "IADR Member Dues" and select your IADR Scientific Group or Network and add any additional Groups or Networks that you belong to. Then click "Next." Note: You only need to do this step once since we are using a new system, you will not need to select your Groups or Networks in future renewals.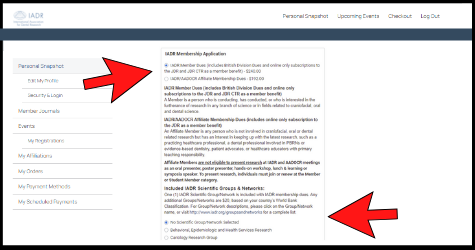 5. Click "Print Journals Subscriptions" if you would like to receive print copies of the journal for an additional fee. Then, if applicable to your membership, select up to two Secondary Divisions/Sections and click "Next."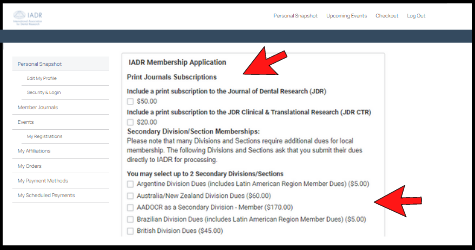 6. On the "OPTIONAL PROGRAMS" page you can donate to the: IADR Adopt-A-Member program, Fellowship program, to one or more IADR Scientific Groups or Networks, and other programs. Scroll to the bottom and then click "Next."
 

7. Click "I have read and understand the refund policy." and click "Next."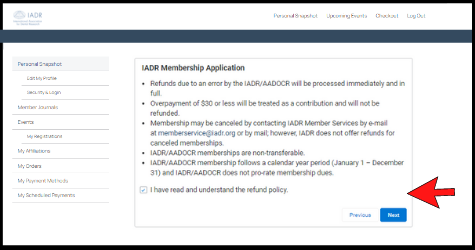 8. NEW AUTO RENEWAL OPTION! Click "Renew Now" and click the "Auto-Renew" dropdown option so you can set up payment and will not have to be contacted next year. You may change this preference at any time.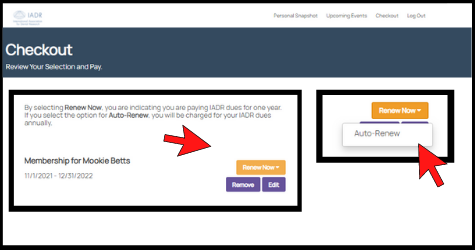 9. Add your payment information and click "Submit." You will receive confirmation of your payment via email. Thank you for your membership!