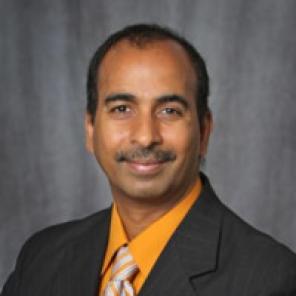 Pandu Gangula is a Professor of Oral Diagnostic Sciences (ODS) and Research at Meharry Medical College with extensive experience in health disparities, as well as basic and translational research. He has been actively involved in working with dental students, residents and faculty in preparing and collecting clinical and pre-clinical data, analysis and interpretations. During his career as a biomedical researcher, he has successfully administered projects, collaborated with other researchers, and mentored young scientists, dental students, DDS-PhD students, and junior faculty. Thus far, his research projects have led to more than 70 peer-reviewed publications. Because of these experiences, he is aware of the importance of frequent communication among project members and of constructing realistic research plans, timelines, and budgets.
How did you first learn about the AADOCR and what motivated you to join?
I first heard of AADOCR soon after I joined the Dental School faculty at Meharry Medical College. I was directed to it by several colleagues of mine who were involved in different ways, as well as from the internet, so I decided to become a member.
Can you describe your research? How do you hope your work will impact others?
I have been working in the field of diabetes and its complications in cardiovascular and gastrointestinal motility. I joined in the Dental School in 2012 and started working on "periodontology" to investigate their associated molecular mechanisms as well. Poor oral health is known to adversely affect other systemic diseases, including diabetes and associated organ functions. I strongly believe that my research will be beneficial to people who has diabetes/periodontal disease so that they can benefit from the proper interventions to control the disease on time. This will help many others take care of their oral health and overall well-being.
Can you describe your experience being a researcher from an underrepresented group in science?
I've found that very few individuals from underrepresented groups are interested in research, and this is for several reasons. As a result of being lower on the socioeconomic ladder and other related factors, poor oral health and diabetes are the most common health complications we see in underrepresented groups. My research will specifically help their overall health by managing their oral health status.
You are currently a member of the AADOCR Salivary Research Group. What motived you to take on this role?
Saliva is an important diagnostic tool for several biomarkers and a critical element in oral health in general. Understanding the function of salivary glands is an essential element of oral health research.
Based on your experience, how would you encourage AADOCR members to help increase the diversity of the research workforce?
It's important to understand that achieving diversity in the research workforce is a continuous process. It's also something that we all must participate in to some degree.
What role do you think professional associations can play in supporting its members who are members of underrepresented minority/ethnic groups?
I would suggest beginning with identifying funding sources for research being carried out at schools with large minority student bodies. The next step is to provide key roles for underrepresented minority and ethnic groups.